Lisbon Airport Transfers to Sintra
How to Get from Lisbon Airport to Sintra?
Visiting Sintra soon? Sintra is one of the top destinations in Portugal. Upon arrival on Lisbon airport you will need a transport to travel the 30km to Sintra. First time visitors tend to use public transportation: you will have to catch a bus or a taxi to Oriente (Lisbon central station). To avoid wasting a couple of hours in multiple transports to Sintra, your best option is to book a private transfer to Sintra. We provide private transportation directly from Lisbon airport to Sintra in approximately 30 min for a reasonable price. We will be waiting for you at the arrivals hall.
Easy online booking for your arrival and departure Lisbon Airport transfers
book with confidence. LIS certified provider.
How it works? Simple.
Select Sintra as your transfer destination area and provide us with flight details, Sintra accommodation address and contact. We automatically process your request for transport availability to Sintra and send a booking voucher with your transfer confirmation in a matter of seconds. At Lisbon Airport arrivals terminal a friendly driver will be waiting for you next to a placard with our website logo. For the return transfer we will pick you up from the same address in Sintra. And remember, you can always pay later to the driver for both your arrival and return Sintra transfer.
How far is Sintra from Lisbon Airport? How much will it cost?
Private taxi transfer prices per vehicle. You can

pay online

or

later to the driver

in euros.
Lisbon Airport Transfer

to or from

Start Price per Vehicle
Sintra
51.3€
Book
How long? The travel distance between Lisbon Airport and Sintra is 30Km and transfer time takes approximatly 30mins under normal traffic conditions.
Private Transfers from Lisbon Airport to Sintra
The most efficient and cheap way for getting to Sintra
We guarantee a private transportation directly to your destination. Our Lisbon airport transfers to Sintra have a fixed price per vehicle not per person. This personalized service is a much affordable and mind free alternative transport to Sintra. At the arrivals hall a designated driver will meet and assist you with all the luggage and guide you to your assigned vehicle. Depending on the size of the group, the transport may vary from an executive saloon or estate car for up to 4 passengers, modern people carrier van or mini-bus up to 16 passengers or even a large bus up to 27 passengers. You will be relaxing at your Sintra resort, hotel or private villa in about 30 minutes. Enjoy Sintra!
---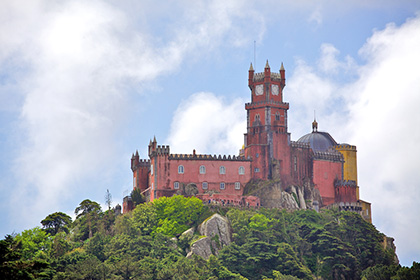 Some Useful Info Before Going to Sintra
Top destination in Portugal, located at north of Lisbon, Sintra attracts thousands of visitors from all over the world every year. Sintra preserves the Romantic architecture from the 19th century. The town and its surroundings are dotted with royal retreats, castles and building from past centuries, some of it are private. Don't miss the Castelo de Mouros, Pena National Palace and Sintra Nacional Palace which classify the spot as World Heritage Site by UNESCO in 1995. If you're staying in a Sintra Hotel or other type of accommodation, you will be amazed by the quantity of history each wall of this buildings has in it.
Transport to Sintra Hotels, Resorts & Villas
We offer high quality transportation services, directly from Lisbon airport to any resort or hotel in the Sintra area: Penha Longa Hotel Golf Resort, Pestana Sintra Golf, Quinta da Beloura Golf, Estoril-Sol International Golf Academy, Lisbon Sports Club, Belas Clube de Campo, Palacio de Seteais Hotel, etc. Pre-book now your airport taxi transfer from Lisbon airport to Sintra, check out or complete list of fares & prices and if you can't find your destination request us for a custom quote.
---
Prices for Private Taxis to Sintra Area
Low Cost Ground Transportation to Sintra and Nearby Locations
Private taxi transfer prices per vehicle. You can

pay online

or

later to the driver

in euros.
Lisbon Airport Transfer

to or from

Start Price per Vehicle
Cascais
53€
Book
Ericeira
66.15€
Book
Estoril
51.3€
Book
Fatima
176.85€
Book
Guincho
51.3€
Book
Lisbon City
30€
Book
Peniche
147.15€
Book
Praia del Rey
180€
Book
Sintra
51.3€
Book
Looking for other locations?
We cover the entire Lisbon area or any other location in Portugal and also Spanish locations nearby the Portuguese border.

More Taxi Transfers Fares & Prices
---
Private Transportation at Lisbon Airport
Quality & reliable Lisbon taxi transfer service
Modern and well maintained vehicles, all with air conditioning
Lisbon Airport transfer itinerary with no stops - door-to-door
No shared transfers - private service - not a shuttle bus
Suitable for Lisbon golf transfers
Ready for special luggage requirements
Official and certified Lisbon Airport transfers company
Transportation services available 24 hours, 7 days a week
Option to pay online via PayPal or later to the driver
Professional and licensed English speaking drivers
Insurance coverage for passengers and luggage

---
Customer Reviews on Lisbon Airport Transfers
Clients feedback and opinion on their private transfers between Lisbon Airport
"My wife and I arrived at Lisbon airport and when entered the arrivals hall immediately found the driver. We were greeted straight away and directed to our coach. On the return journey the coach arrived at the hotel at the time we were given. Everything went very smoothly and we will certainly be using your Lisbon airport taxi transfers to Cascais on our next visit."

Tim Groves
"I had to organize transport from Lisbon airport to Oeiras for a group of 37 people who were arriving on different flights, attending a next day conference at Lagoas Park Hotel Congress Centre. It was easy! After submitting my plan to them they phoned to offer help. All the drivers were very friendly and helpful, clean vehicles, got us to the hotel in good time. Would definitely use this service again. Thank you."

Gary Miller
"We were all very exciting for being visiting Fatima. Our flight from Manchester was delayed, the driver was there at the airport to meet and greet us with no hint of rushing to make up lost time. He was very knowledgeable and informative about Fatima and how to get there. As a large group we delayed in the morning for the return journey from Fatima to Lisbon Airport, the driver waited for us, not even a hint of angst or annoyance. "These things happen" he said, and off we went. Both drivers were great."

James Patterson
---