Lisbon Airport Transfers to Sines
How to Get from Lisbon Airport to Sines?
Are you visiting Portugal? If you want to visit Sines, most likely you will arrive at Lisbon airport. To appreciate a comfortable transition from the Lisbon airport to your destination you should book a private Lisbon airport transfer to Sines avoiding all the hassle of public transports. In about 105 minutes you will be appreciating all tranquility that Sines has to offer.
Easy online booking for your arrival and departure Lisbon Airport transfers
book with confidence. LIS certified provider.
How it works? Simple.
Select Sines as your transfer destination area and provide us with flight details, Sines accommodation address and contact. We automatically process your request for transport availability to Sines and send a booking voucher with your transfer confirmation in a matter of seconds. At Lisbon Airport arrivals terminal a friendly driver will be waiting for you next to a placard with our website logo. For the return transfer we will pick you up from the same address in Sines. And remember, you can always pay later to the driver for both your arrival and return Sines transfer.
How far is Sines from Lisbon Airport? How much will it cost?
Private taxi transfer prices per vehicle. You can

pay online

or

later to the driver

in euros.
Lisbon Airport Transfer

to or from

Start Price per Vehicle
Sines
229.5€
Book
How long? The travel distance between Lisbon Airport and Sines is 160Km and transfer time takes approximatly 105mins under normal traffic conditions.
Private Transfers from Lisbon Airport to Sines
The most efficient and cheap way for getting to Sines
If you are looking for an easy, faster, affordable and hassle free alternative transport to Sines, the private Lisbon taxi transfer is the best choice. You will have a friendly driver waiting for you that will assist you with all of your luggage and guide you to your assigned transfer vehicle. While you are comfortable accommodate you can appreciate the beautiful plains that are a constant in Alentejo landscape and in about 105 minutes you will be at your destination. Enjoy!
---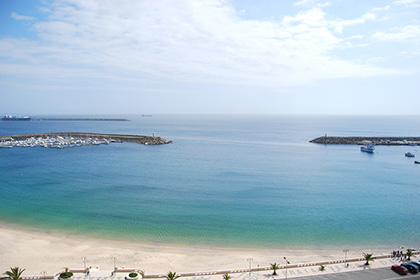 Some Useful Info Before Going to Sines
Alentejo well known city, Sines is located exactly in the center of Portugal southwest coast, integrated in the Alentejo South-west Natural Park and Vicentina Coast. In the picturesque village of Porto Covo you can appreciate one of the most beautiful and protected beaches in Portugal. Sines has the main port in the ibero-atlantic front featured by its open deep-water sea with excellent maritime access. It is a place of unique diversity in an exciting landscape: long scarps, little beaches, dunes, heath and mountains. Sines is also a historical birthplace of the well known portuguese navigator, Vasco da Gama, who found the maritime route to India. It is a place for everyone, from families to the most adventurous.
Transport to Sines Hotels, Resorts & Villas
In Sines area, our private transfer service will transport you directly to and from any hotel, resort or private holiday villas/apartments. Take a look at our full list of taxi transfers fares & prices to see all the covered locations in the Alentejo and pre-book taxi transfers from Lisbon airport to Sines or other near by destination.
---
Prices for Private Taxis to Sines Area
Low Cost Ground Transportation to Sines and Nearby Locations
Private taxi transfer prices per vehicle. You can

pay online

or

later to the driver

in euros.
Lisbon Airport Transfer

to or from

Start Price per Vehicle
Cascais
53€
Book
Ericeira
66.15€
Book
Estoril
51.3€
Book
Lisbon City
30€
Book
Peniche
147.15€
Book
Sesimbra
66.15€
Book
Setubal
66.15€
Book
Sines
229.5€
Book
Sintra
51.3€
Book
Looking for other locations?
We cover the entire Lisbon area or any other location in Portugal and also Spanish locations nearby the Portuguese border.

More Taxi Transfers Fares & Prices
---
Private Transportation at Lisbon Airport
Quality & reliable Lisbon taxi transfer service
Modern and well maintained vehicles, all with air conditioning
Lisbon Airport transfer itinerary with no stops - door-to-door
No shared transfers - private service - not a shuttle bus
Suitable for Lisbon golf transfers
Ready for special luggage requirements
Official and certified Lisbon Airport transfers company
Transportation services available 24 hours, 7 days a week
Option to pay online via PayPal or later to the driver
Professional and licensed English speaking drivers
Insurance coverage for passengers and luggage

---
Customer Reviews on Lisbon Airport Transfers
Clients feedback and opinion on their private transfers between Lisbon Airport
"The driver was close by the exit point of arrivals with my name clearly signed. The transfer to Obidos was carried by a clean and modern van with plenty of capacity for 7 people and luggage. The driver helped with luggage on and off and the return was equally good from the hotel in Obidos. Very punctual! Highly recommended and good value."

Alan Smith
"I have used LisbonAirportTransfersTo.com twice now. Downtown in July 2010 and Estoril in June 2011. Both times couldn't fault the booking process nor the service from start to finish. Not only was the service 2nd to none, they were the cheapest each time. The last transfer from Lisbon airport to Estoril I also used their on-line support to change flight details. Also would like to mention that the times given for transfers were very accurate."

Andrew Oldfield
"I had to organize transport from Lisbon airport to Oeiras for a group of 37 people who were arriving on different flights, attending a next day conference at Lagoas Park Hotel Congress Centre. It was easy! After submitting my plan to them they phoned to offer help. All the drivers were very friendly and helpful, clean vehicles, got us to the hotel in good time. Would definitely use this service again. Thank you."

Gary Miller
---