Lisbon Airport Transfers to Praia del Rey
How to Get from Lisbon Airport to Praia del Rey?
If you are planning your golf holidays in Praia del Rey you will probably be arriving at Lisbon Airport. Upon arrival do not catch a public transportation to Praia del Rey, you will pass all day carrying luggage and golf clubs while switching between buses and trains. This option takes forever and you will be exhausted. We advise you to book online a private Lisbon airport transfer to Praia del Rey Golf Resort. Our airport taxi transfers services is the fastest and cheapest option you will find compared to regular taxis.
Easy online booking for your arrival and departure Lisbon Airport transfers
book with confidence. LIS certified provider.
How it works? Simple.
Select Praia del Rey as your transfer destination area and provide us with flight details, Praia del Rey accommodation address and contact. We automatically process your request for transport availability to Praia del Rey and send a booking voucher with your transfer confirmation in a matter of seconds. At Lisbon Airport arrivals terminal a friendly driver will be waiting for you next to a placard with our website logo. For the return transfer we will pick you up from the same address in Praia del Rey. And remember, you can always pay later to the driver for both your arrival and return Praia del Rey transfer.
How far is Praia del Rey from Lisbon Airport? How much will it cost?
Private taxi transfer prices per vehicle. You can

pay online

or

later to the driver

in euros.
Lisbon Airport Transfer

to or from

Start Price per Vehicle
Praia del Rey
180€
Book
How long? The travel distance between Lisbon Airport and Praia del Rey is 95Km and transfer time takes approximatly 70mins under normal traffic conditions.
Private Transfers from Lisbon Airport to Praia del Rey
The most efficient and cheap way for getting to Praia del Rey
Providing private and direct Lisbon airport transfers to Praia del Rey Golf resort. If you want to avoid all the hassle of catching buses and trains in Lisbon to Praia del Rey carrying your luggage around and if you are not willing to wait in lines and pay for expensive normal taxi fares to Praia del Rey. Using our services a driver will meet and greet you at Lisbon Airport arrivals hall. He will assist you with all the luggage and golf clubs, guide you to your assigned transfer vehicle. In approximately 70 minutes you will be playing golf with your friends and family. Welcome to Portugal!
---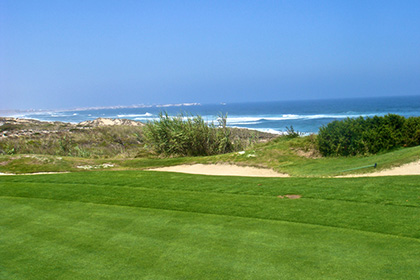 Going to Praia del Rey Soon? Some Teasing Info
Praia del Rey is the perfect combination between sand dunes, beaches and golf with a relax atmosphere. Praia del Rey Golf & Beach Resort less than one hour from Lisbon airport, set in an area of rural landscape of sand dunes, pine tree forests and the Atlantic ocean. You will be amazed by the quantity of out-door activities available. Welcome to Portugal!
Transport to Praia del Rey Hotels, Resorts & Villas
We are specialists in quality private transfers service at Lisbon Airport. We will transport you directly to and from any hotel, golf resort or private holiday villas / apartments in the Praia del Rey area: Golf & Beach Resort, Holiday Residence Praia del Rey. Use our website to pre-book your airport taxi transfer from Lisbon airport to your accommodation.
---
Prices for Private Taxis to Praia del Rey Area
Low Cost Ground Transportation to Praia del Rey and Nearby Locations
Private taxi transfer prices per vehicle. You can

pay online

or

later to the driver

in euros.
Lisbon Airport Transfer

to or from

Start Price per Vehicle
Costa da Caparica
46€
Book
Ericeira
66.15€
Book
Estoril
51.3€
Book
Guincho
51.3€
Book
Lisbon City
30€
Book
Peniche
147.15€
Book
Praia del Rey
180€
Book
Sintra
51.3€
Book
Looking for other locations?
We cover the entire Lisbon area or any other location in Portugal and also Spanish locations nearby the Portuguese border.

More Taxi Transfers Fares & Prices
---
Private Transportation at Lisbon Airport
Quality & reliable Lisbon taxi transfer service
Modern and well maintained vehicles, all with air conditioning
Lisbon Airport transfer itinerary with no stops - door-to-door
No shared transfers - private service - not a shuttle bus
Suitable for Lisbon golf transfers
Ready for special luggage requirements
Official and certified Lisbon Airport transfers company
Transportation services available 24 hours, 7 days a week
Option to pay online via PayPal or later to the driver
Professional and licensed English speaking drivers
Insurance coverage for passengers and luggage

---
Customer Reviews on Lisbon Airport Transfers
Clients feedback and opinion on their private transfers between Lisbon Airport
"We visit Lisbon very often and we always took a regular taxi to our hotel, then a friend of ours recommended LisbonAirportTransfersTo.com and talked very highly of it. We decided to try their services a few years ago from Lisbon airport to Sintra and we haven't looked back since. It is very reliable, friendly staff, and excellent value for money. I have since recommended them to all my friends going to Lisbon and they all use it and say the same thing."

Sam Beevers
"Excellent service, very impressed. Our driver was waiting for us, thoughtful, knowledgable and a safe driver. He spoke excellent English and was a delight - he told us interesting facts about things while driving us from Lisbon airport to Ericeira and knew exactly where he was going - well briefed, observant and competent. I would most definitely use the service again and would specifically ask for Joao as he was very good. Thanks."

Simon Foulston
"We were all very exciting for being visiting Fatima. Our flight from Manchester was delayed, the driver was there at the airport to meet and greet us with no hint of rushing to make up lost time. He was very knowledgeable and informative about Fatima and how to get there. As a large group we delayed in the morning for the return journey from Fatima to Lisbon Airport, the driver waited for us, not even a hint of angst or annoyance. "These things happen" he said, and off we went. Both drivers were great."

James Patterson
---