Lisbon Airport Transfers to Palmela
How to Get from Lisbon Airport to Palmela?
If you are planning on travel to Palmela you will probably be arriving at Lisbon Airport. There are a few options for ground transportation to get to Palmela. From the airport you have to catch a public bus or a taxi to the Lisbon central station - Oriente. Once there you can catch a train to Palmela, which is faster compared to bus. To avoid all this trouble of carrying your luggage up and down, back and forth, your best option is to book online a Lisbon airport transfer to Palmela. We provide a direct private transfer from Lisbon airport to your accommodation.
Easy online booking for your arrival and departure Lisbon Airport transfers
book with confidence. LIS certified provider.
How it works? Simple.
Select Palmela as your transfer destination area and provide us with flight details, Palmela accommodation address and contact. We automatically process your request for transport availability to Palmela and send a booking voucher with your transfer confirmation in a matter of seconds. At Lisbon Airport arrivals terminal a friendly driver will be waiting for you next to a placard with our website logo. For the return transfer we will pick you up from the same address in Palmela. And remember, you can always pay later to the driver for both your arrival and return Palmela transfer.
How far is Palmela from Lisbon Airport? How much will it cost?
Private taxi transfer prices per vehicle. You can

pay online

or

later to the driver

in euros.
Lisbon Airport Transfer

to or from

Start Price per Vehicle
Palmela
66.15€
Book
How long? The travel distance between Lisbon Airport and Palmela is 46Km and transfer time takes approximatly 35mins under normal traffic conditions.
Private Transfers from Lisbon Airport to Palmela
The most efficient and cheap way for getting to Palmela
We provide private Lisbon airport transfers till your destination. Our non-stop Lisbon taxi transfers to Palmela have fixed prices and are the faster, affordable and mind free alternative of ground transport to Palmela. At the Lisbon airport arrivals hall your private driver will meet and greet you, he will help you with your luggage and guide you to your assigned airport transfer vehicle, which may vary from an executive saloon or estate car for up to 4 passengers, a modern people carrier van or mini-bus up to 16 passengers or a large bus up to 27 passengers. In approximately 30 minutes you will be relaxing at your accommodation in Palmela. Welcome to Portugal!
---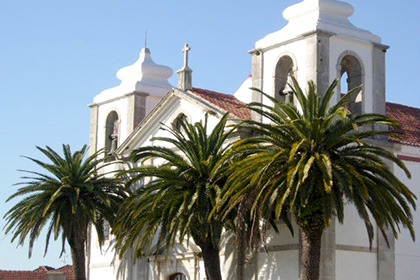 Going to Palmela Soon? Some Overview Info
Palmela is a rural town located up a hill in the Arrabida area, just half an hour from Lisbon. Do not miss the town exlibris, the castle of Palmela, conquered in the 12th century from the muslim invaders, where you can observe an unique view over the whole area. The area was a strategic place in the past as it remains nowadays, being a main knot of Portugal road and rail networks. Palmela is also known for its traditional products such as wine and cheese. There are several festivals dedicated to these products, being the most famous the Vines Festival (Festa das Vindimas) and the Festival of Cheese, Bread and Wine (Festival do Queijo, Pão e Vinho).
Transport to Palmela Hotels, Resorts & Villas
Our core business is private taxi transfers at Lisbon Airport. We provide you with ground transportation services directly to and from any hotel or private holiday villas / apartments in the Palmela area: Palmela Village Golf Resort, Amazonia Palmela Apartments, Varandazul Hotel. Through our website you can pre-book your airport transfer from Lisbon airport to Palmela. If you can't find your destination request us for a custom quote.
---
Prices for Private Taxis to Palmela Area
Low Cost Ground Transportation to Palmela and Nearby Locations
Private taxi transfer prices per vehicle. You can

pay online

or

later to the driver

in euros.
Lisbon Airport Transfer

to or from

Start Price per Vehicle
Cascais
53€
Book
Costa da Caparica
46€
Book
Foz do Arelho
147.15€
Book
Lisbon City
30€
Book
Palmela
66.15€
Book
Peniche
147.15€
Book
Setubal
66.15€
Book
Sines
229.5€
Book
Sintra
51.3€
Book
Looking for other locations?
We cover the entire Lisbon area or any other location in Portugal and also Spanish locations nearby the Portuguese border.

More Taxi Transfers Fares & Prices
---
Private Transportation at Lisbon Airport
Quality & reliable Lisbon taxi transfer service
Modern and well maintained vehicles, all with air conditioning
Lisbon Airport transfer itinerary with no stops - door-to-door
No shared transfers - private service - not a shuttle bus
Suitable for Lisbon golf transfers
Ready for special luggage requirements
Official and certified Lisbon Airport transfers company
Transportation services available 24 hours, 7 days a week
Option to pay online via PayPal or later to the driver
Professional and licensed English speaking drivers
Insurance coverage for passengers and luggage

---
Customer Reviews on Lisbon Airport Transfers
Clients feedback and opinion on their private transfers between Lisbon Airport
"I had to organize transport from Lisbon airport to Oeiras for a group of 37 people who were arriving on different flights, attending a next day conference at Lagoas Park Hotel Congress Centre. It was easy! After submitting my plan to them they phoned to offer help. All the drivers were very friendly and helpful, clean vehicles, got us to the hotel in good time. Would definitely use this service again. Thank you."

Gary Miller
"Couldn't believe how simple and fast our transfer was from Lisbon Airport to Peniche. The driver was waiting for us. He just checked our booking voucher and directed us to the waiting coach. He was very helpful and took us to our hotel accommodation in time. Coach was also on time on the return journey to the airport and driver again very courteous. We have recommended you to others arriving at Lisbon airport. Thank you."

David Cox
"Pre-booked online a transfer from Lisbon airport to city centre. My late flight from London was delayed and the luggage took forever to appear on the carousel. This made me a bit nervous. When I finally entered the arrivals hall there was the driver holding a sign with my name on it, what a relief! He was courteous, set off quickly in a executive car and I was soon at my hotel in Lisbon centre. The return journey went well."

Robert Betts
---